I have to delay the continuation on the story of the van an extra few days. I would like to post pictures of her and the weather simply isn't cooperating. 55 degrees on Tuesday. The next day it's so icy that no travel advisories are posted. Yep again. Ugh! This weather is so unpredictable that it's becoming predictable! Nice day? Ha! Get your parkas out!
---
I always had a dream that I wanted a log cabin in the woods somewhere. I like a lot of solitude, not always being able to relate to other people so well. But unless I were to win the lottery, I didn't see how I could ever have that cabin. It was impossible.
We couldn't afford much of anything. Looking around at what we had…this thing, that thing…Sigh. An old Bethany pop-up camper….
Wait a second.
The Bethany was picked up some years back. It gotten some use, but unfortunately the canvas was dry-rotting off of it. I had no idea how to deal with that as it would take a chunk of money to have the canvas replaced. So the camper sat. Just another worn-out thing.
My eyes lighted on it. The wheels started turning in my mind.
I wonder if it would be possible to turn this camper into a little hard-side unit?
The camper was pulled into the garage and the rotten canvas removed. We had no idea what we were doing, so if you read this and say, "You can't do that!" Well, we didn't know you can't do that so we did it anyway.
The framing was constructed of 2 x 2s in the general shape of the original bunks. Everything was built and marked for re-assembly, knowing it would be torn down again until the camper was relocated to it's place in the woods for final assembly. Pieces of particle board were cut to fit the new wall-frames, leaving cutouts for 2 windows on either end. Foam was used as insulation in the walls and under the bunks. It could be done!
I decided I would have that log cabin after all!  The biggest expense was purchasing log siding for the little camper-turned tiny cabin.
The inside wasn't in bad shape. I put down a new floor which didn't take many tiles at all. I cut new cabinet doors out of butcher-block style pine boards. The edges were then routed, they turned out pretty snazzy. I notched and cut pieces of knotty-pine tongue & groove with my scroll saw for the interior.
The camper was framed and built in the garage. It was then disassembled and the parts stored back in the folded-down camper which was then towed to it's home and put back together again.
Birch plywood was used for the large areas over the bunks.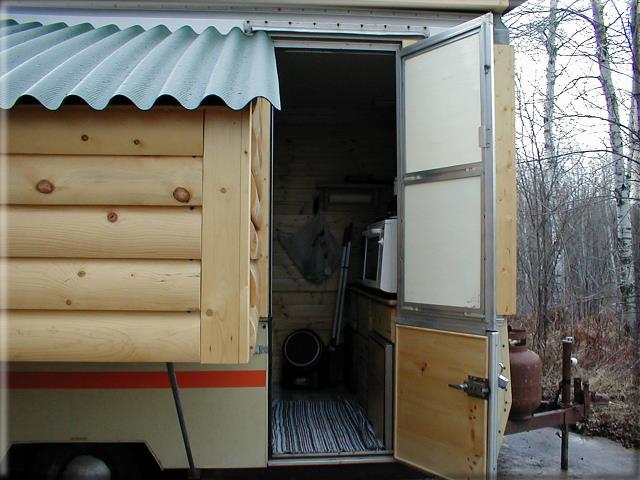 A corrugated material was used for the 'roof'. A frame was crafted to fit the top of the camper to provide some slope and prevent water from pooling on the flat roof.
It was perfect to me. It's a tiny cabin. It still exists. There is no electricity, no running water. Electricity, when needed, is provided via generator and water is carried in, garbage is carried out. Cell service is splotchy at best. Heat is provided via a propane catalytic heater, it has a propane lantern.
Entertainment is magazines, books. Making a campfire, listening to the partridge thump the ground and watching the deer wander up by the cabin.
I've had no structural problems with the build. The bed supports hold. It doesn't go anywhere. It hasn't collapsed. It probably helps to not do jumping jacks or calisthenics while in it. The old Bethany pop-ups were pretty solid, simple units.
Except for some flies, there haven't been any problems with wayward critters taking up residence. I sealed every nook and cranny up pretty tight with silicone sealant to guard against that.
Unfortunately, the weather where my tiny cabin is located is very hard on things. It has to be periodically sanded down with an orbital sander and a new finish applied. The picture below was after only several years. There are only 2 times a year when it's practical to do work on the cabin. (It's not in Alaska, but it might as well be.)
I'm sort of far away from my little cabin now. I miss it, sometimes quite a lot. I would like to get there again soon.
If you want a log cabin, sometimes you have to make do and build it yourself.