Little Scamp was a 1978 13′ molded fiberglass camper.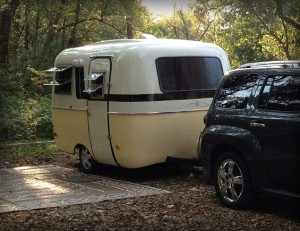 Little Scamp was the first of my Scamp campers. I'd picked up this little, 13′ vintage Scamp a few years ago. It was about the only style/type/size of hard-sided, standing-room camper that the little car I had at the time, a 2010 Chevy HHR, could pull.
Little Scamp was restored by his former owner – who was moving up to a larger 5th wheel unit but he still held fondness for the Scamp for its ease-of-use and setup. I added the chrome going around the belly-band and original jalousie windows. I tinted the windows and washed and polished it with Zep high-traffic floor polish.
Little Scamp was light-weight due to mostly being a 'shell'.
It was very comfortable, but there was no built-in furnace, fridge or A/C. I would bring a cooler and use a portable heater and fans.
The previous owner installed a drop-floor; being tall, he said he didn't want to have to stoop! There was plenty of headroom.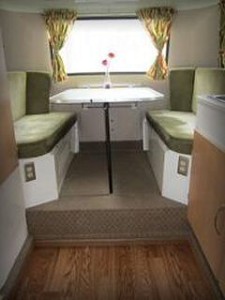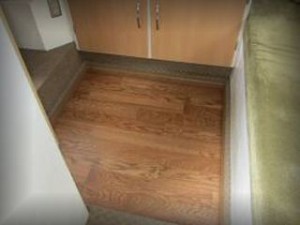 Rat fur.
The previous owner replaced the interior fuzz with new interior fuzz; he told me that was quite a project. Well, those weren't quite the words he used, but I'm trying to keep this more family-oriented. The interior fabric is also known as "rat-fur" by fiberglass camper aficionados, and he and his wife also replaced the cushions and upholstering, using a great high-grade foam. Sleeping in the Scamp was really comfortable.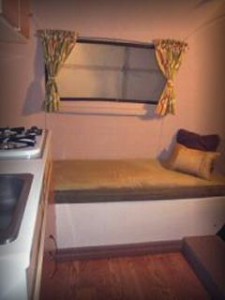 He put in a new back splash and added a new stove and cabinet doors.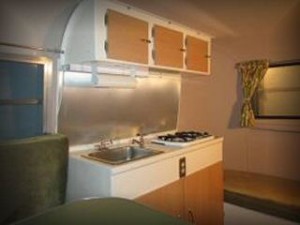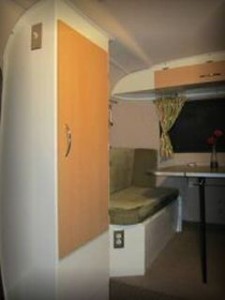 These little campers have more room inside than they appear to. I don't use a table much, so that area was made into a bed.  A little TV was mounted on a stand bolted to a reinforced area of the cabinet, and a little DVD player sits on a TV tray table on the bed. Here is the front area, by the door. That bed/couch was big enough to stretch out on comfortably.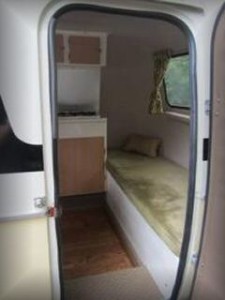 I was glad to find a wee camper that did not need a ton of work and wasn't halfway across the country from our current location. I found to my chagrin, when I started looking for a used 13′ fiberglass, that they are not always so easy to find and may need a lot of work if you do find one. Some people may like to do those types of projects though! But this camper was great. Little Scamp was eventually sold to new parents from ND!