It was official.
All five original members of Fleetwood Mac (from the Rumours era) were going on tour; Mick Fleetwood, John McVie, Christine McVie, Stevie Nicks and Lindsey Buckingham.
Despite the cocaine use and the stress that came with their fame, Fleetwood Mac had survived – and again they would play together with all members. They had overcome long odds and they had something that many bands from that era did not have anymore – with many of those bands having had members die due to drug use or simply not being able to work together any more.
I visited Fleetwood Mac's website and looked at their concert schedule and decided that I must go. It's not something I would do for just any band. I was transported back years in time and remembered how when I was a kid I had a little GE transistor radio that ran off a 9 volt battery.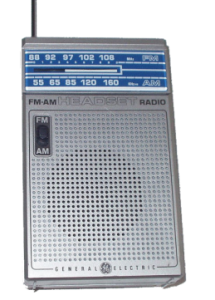 I would fall asleep to the likes of Fleetwood Mac and Steely Dan on 63 KDWB AM in Minneapolis; Stevie Nicks singing me to sleep with 'Dreams' and Donald Fagan singing about Peg or about when Josie comes home. I would frequently drain the battery on that little radio, waking up at some point to the weak crackles remaining, and I would sleepily thumb the dial until it clicked, shutting it off. Those bands and the songs they sang were my friends.
Snapping back to the present to the glow of the computer monitor, I braced myself and got out the Vaseline jar in preparation for the exorbitant ticket prices I'd likely pay. According to the ticket website there were few seats remaining and none of them were very good. I decided I didn't care. I grit my teeth and clutching the Vaseline jar in one hand, with the other I chose the best nosebleed seat and clicked 'buy'. Ouch!
The concert tour started in Minneapolis. Hundreds of miles from where I am now and in the middle of the week. No matter. I made the necessary arrangements to go. As the date approached I decided it was a good opportunity to take Hhrbie and the Scamp out and I decided I would take my sweet time getting there, camping along the way.
I went by myself.  I guess most folks like to do these sorts of things with others, but I never thought twice about going solo.
The trip went really well. I was braced for obstructed view seats, expecting the worst.
The seats and rows were alpine-steep. Occasionally you could see someone rappelling down to visit the restroom or the snack bar. None of us up there knew each other but we all made jokes about our nosebleed seats. We all had to stand anytime anyone came through, teetering on the narrow tiers. One woman sidled by us disliking the heights, clutching each of us for dear life, giggling and calling us her 'new best friends'.
But despite the faint strains of yodeling, random mountain goat-spotting and the thin air we could actually see everyone on stage and the view wasn't as 'obstructed' as we feared, and they also had large screens up.
Fleetwood Mac seemed to really enjoy having their band all back together again and we, their rapt audience that night, we happy to have them there. Whereas I am typically frugal, I don't regret any of the funds I spent on this adventure.