Purchased with under 100,000 mi, she has an Explorer Limited conversion package and the 5.7 L V8. Finally with nicer weather I could hose off all that damned salt and dirt from these stinkin random snowstorms…clean her up some.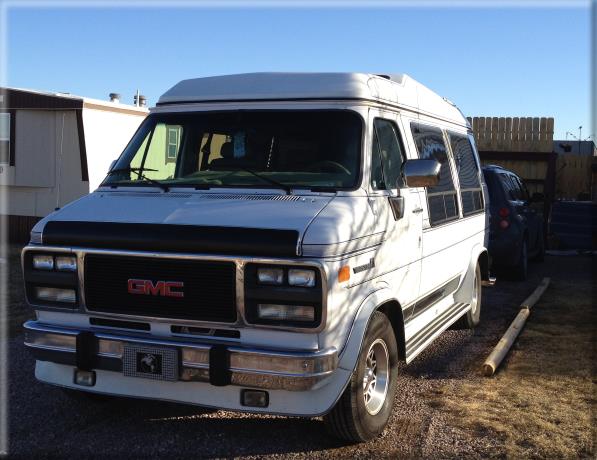 I don't know that she's been abused so much as neglected. Those categories can overlap a little. But I don't think anyone went hot-rodding in her or anything.
I've been plugging away little by little with the interior. I use BLO (boiled linseed oil) to recondition the wood, it helps with faded, scratched or drip-marked wood trim. I've replaced both power-window switches and they had put the door-pulls on incorrectly, I fixed that as well.
They're not huge dramatic changes, just the little things – but the end result adds up over time.
This van has skylights and a sunroof, which I really liked; my Kenworth also had skylights.
These were leaking a little around the seams. I've packed some window sealant in there now and removed the trim. It had this ghastly flocking (?!) on it which showed evidence of the little leaks. I decided the flocking was looking like a skin disorder gone awry and needed to come off! Soaking it with a citrus cleaner seems to loosen the flocking so I can kind of chisel it off. I don't have that little tedious project complete yet, so the above picture is sans trim around the skylights. The roof curves there in the corner, the headliner is not hanging down.
This van has what's called a TV Top. It's kind of a mid-size high-top. It has just about 5'2″ of standing room at the highest part of the roof which is by the little skylights.
The back seat is actually pretty comfy. Many people take that seat out and install a bed. I will be leaving the seat because I have the Scamp to sleep in for things beyond a nap. The seat is tortuously uncomfortable folded down into a bed and being leather, bedding slithers right off. You put your head on your pillow, it shoots out from under you!
However – it is comfortable to lay on it when it's in 'seat form' – go figure! I am not a tall person, so this works well. I can nap comfortably, it doesn't hurt my back and that's saying a lot. It doesn't hurt my tailbone to drive long distances, either! It's like a big marshmallow. We go over speed bumps that in Hhrbie will nearly launch you through his sunroof, and giggle because 'plink', in the van they're barely there.
I have two blankets in there right now. I get an hour for a lunch break so the van is my sanity refuge. I go out there and eat what my teeny lunch crock has heated up and I grab a totally comfy power-nap. I pull the shades and I put a tension rod with a smallish center curtain I can pull just behind the front seats for further privacy.
Always a work in progress.  Thanks for touring her with me!