Snap, Crackle, Pop
I creaked and crackled when I sat down to write this post, which due to fatigue, I hope isn't too incoherent.  I expect my rear-end to catch up and be along with me soon.
I had to have help heaving the Scamp around tonight as I was strongly prohibited (by Roseytail) from doing it myself after rupturing a disc in my back (or pinching a nerve) a week or two ago when I lifted it myself to toss it on the van's trailer hitch. I don't actually know what I did, but it hurt pretty bad for days and wasn't solely muscle. Ummm, heh-heh, oops?
When we last left off, the Scamp's brand new tire had dramatically exploded out of the blue, leaving the Scamp and myself looking rather like this: :\ Mr. Scamp was leaning down to the right, and so was the corner of my mouth.
The tire store sent a guy out to my house, which they usually don't do, to pull the brand new (but blown) Towmax tire off the Scamp. I wanted them both off, which they understood. He had to do it one at a time; as in, pull the first one then come back for the other. He called the sidewall blowout a "zipper rip"; apparently the nylon cords on the sidewall essentially 'unzipped'.  BOOM, no tire. They were replaced with a different brand entirely, something I've never heard of and the name escapes me right now but as long as they don't pull shenanigans, that's all that matters in that department. In fact, I'd be really glad if nothing else pulls shenanigans on me.
Chores
Let's see. Over the last week I've repaired the windshield washer fluid lines. I've had no windshield-wash capability since I bought the van. I'd been meaning to track that problem further, but with all our rain geez, why bother, right? I had initially installed a replacement pump, but still no Splash. Time to do some more trouble-shooting.
Ah-ha! Craning my head and peering between the bars, I spotted that a T-connector (beneath the cowling between the windshield and hood where it was very hard to see and get at) had crumbled with age. So I had to unscrew and unbolt about 20 things, wrestle off the wiper arms and the cowling while battling a wasp that wanted to take up residence there for some reason, and then…the most challenging part: Get the parts store to actually get us the right connector. It only took 3-18 mile round trips! It would have been less trips but I had called the store and told them the size I needed (3/16″ on all 3 points.) They said they would set aside the package for my daughter to pick up after work. Except…20 minutes later a new shift came on, put the part away and then sent said daughter home with the wrong thing when she came to pick it up because they couldn't remember what they'd put away. |C  <—sideways grumpy-face. But finally, success! When I push the washer lever now, I've got spray!
I sealed up the outside skylight windows on the van's high-top with silicone and spot patched a few tiny pinholes in the Scamp. All of the gully-washers we've had out here lately have highlighted quite thoroughly any places that needed sealant-attention. Fiberglass campers can develop little pinhole leaks via the gel-coat. Quick fix was to dab clear silicone sealant over the offenders, just 2 or 3 of them. For a 37 year-old camper, I think that's pretty good!
I JB-Welded a rivet-point on the Scamp's vent cover, where the pull-chain attaches, that was loose.
I wired up a new vehicle-side 6 round trailer-light connector. The other one appeared to possibly have a loose wire in the plug-area. I was unable to get the old plug apart to correct it that way, so on went a new one…after another trip to the parts store, of course. It even works! We had a few moments of:
"Nope, nothing's blinking. But the right light is really bright! Is that okay?"
#($$*@&
"Geez, Mom. Language."
#($$@&!!
"OOPS! Okay now the right side is blinking."
"What the…but that's supposed to be the post for the left side according to this #($& package!"
<grumble, grumble>
Packing a Tiny Camper
AAAANNNNDDD also…I finished up creative-space manipulating!
Living in a 13′ camper doesn't afford lots of space for scattering junk willy-nilly. So here's some of how I handled using the small space practically – with keeping things somewhat lightweight:
I have a teeny cast-iron fry pan. Good for grilled sandwiches or single-sized things. I have a set of small pots/hiking cookware.
I have a small, non-electric coffee maker. It's a drip-style and makes the best coffee I've ever had, hands down. (Formal name: Clever Coffee Dripper). I also have a small folding silicone one for hiking, it packs down into nearly nothing. I like freshly-ground coffee beans so I have a manual grinder.
I have a fold-down solar oven. I'd love a Global Sun Oven, but they take up more space & weight. I'll report back on the solar oven as I'm able to use it!
My particular Scamp does not have a bathroom. No problem. My big-truck never did, either. I carry a 5 gallon bucket with a toilet-seat snap down lid. This is double-lined with garbage bags, several infant diapers and a RV toilet toss-in packet. This system lasts a few days before needing to be changed out.
I have a pop-up shower-tent (shown FOLDED) that goes with the Luggable Loo and the battery shower pump: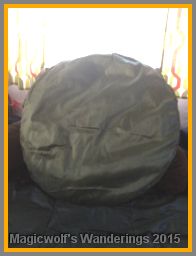 This blasted gizmo actually sat around my house for months unfolded. When it first arrived, it sprung free and jumped to attention like a tree on steroids! We couldn't get it folded back up again for anything. I watched numerous videos, you-name-it. I became convinced it was a sadistic torture device sent from TentHell and it was banished to the shed, where it snickered at me every time I went out there. I finally pulled it out after months, determined this tent would not giggle at me further. After much struggle, I prevailed! When it slid back into is 3-looped form I shrieked with joy and ran around the house waving it in triumph!
Here are the instructions that finally worked with this tent's style of folding. The expressionless lady is missing the frown, the disheveled clothing, bruises, the $#($&!! above her head and the flying beads of sweat, but this method did finally work: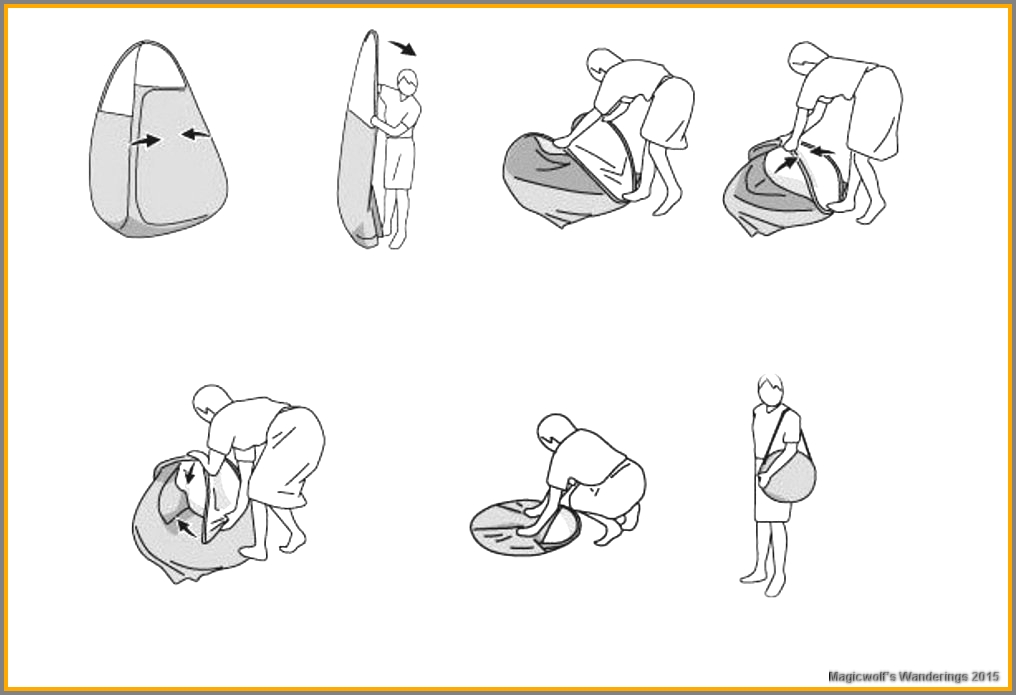 I have a battery-operated Zodi water pump and dark-colored folding buckets (for showers/washing up). The dark buckets can be filled and set in the sun to heat up the water.
Groceries, Misc and Maggie
I ditched most extraneous packaging! Cardboard boxes can take up a lot of room: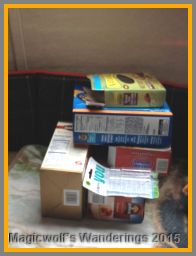 Get rid of (most of) them, and you can put food and supplies neatly away!: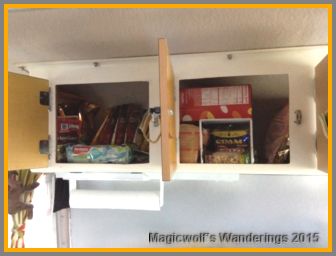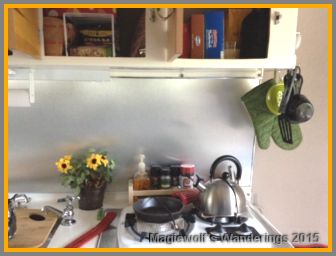 That green round thing hanging by the potholder is a coffee-maker! The teapot and the tiny frying pan are bungeed down so they can be kept on the stove but don't go anywhere while moving. The velcroed-down cutting board over the sink adds a little working space and the flowers and the spice rack behind the stove are also velcroed down.  I use kid-oven door locks to fasten the cupboard and overhead doors closed while the Scamp is moving.
Some fiberglass camper owners have expressed dislike for the fuzzy 'rat-fur' interiors in some of them. But I really like my rat-fur – especially when I discovered velcro sticks to it. 🙂
I carry groceries for about a week. I have highly-rated full-fat milk powder instead of liquid milk and egg crystals to bake with. I'll report on a scale of 1 to 5 gags on how those things actually are as I use them! A tiny plug-in cooler will keep butter cool and goes easily back & forth between the van and the Scamp.
Kitty food, canned goods, the coffee dripper, bean grinder, a toiletry basket and clothes all fit pretty well in this tiny closet: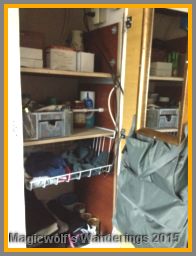 There's an extra tension rod in the van that I have my button-down shirts and coats hanging on. Miss Magnum's dome-covered litter box (with lightweight litter) shuttles between the van and the Scamp and fits well in both. She's an average-sized kitty so the size works well for her but might not for larger cats. She has toys in the van (it's really not a dead-bird laying on the floor!). The tiny plug-in cooler is also visible: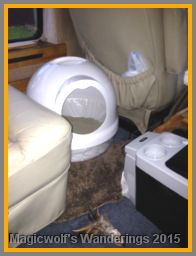 Miss Maggie is a seasoned traveler and was raised in a big-rig, but it's been a few years now so Roseytail and I took her out for a little ride last night. She was anxious at first – as anyone would be carried out to a weird, new vehicle – and she rushed around the mother-ship rubbing her face on everything to mark it as 'hers', looking warily around for Georgie. She did find something (a carpeted speaker box) that had previously been in my big truck with her and it seemed to soothe her. She did pretty good and had calmed down quite a bit by the time we returned to the house. There is a pack-away mesh tent for Magnum so she can spend time outside with me when weather permits.
Just a heads up – further posts will likely be done via email to conserve on data usage while traveling unless I find wi-fi somewhere. I haven't tried that method before so if the posts look weird or like a child of five threw them together, that'll be why!
So easy, a child of five could do it. Fetch me a child of five!