Last weekend I decided I should make a run to Wall Drug in Wall, SD. You would think that living around the Black Hills, soft-soled moccasins would be an easy thing to find, but I apparently really didn't know where to look. I stopped by Cabela's, but rejected a Made in China pair I'd found there for $9.99. They had some clearance things that were promising, but of course I was too late and my size was sold out!
But I knew Wall Drug would have something. I hopped into Hhrbie and away I zoomed towards Wall.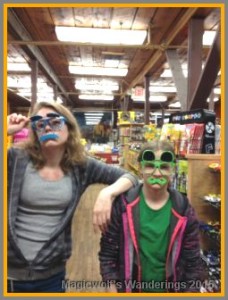 Wall Drug is one of those rare places that is virtually unchanged in the 35+ years that I've made visits there. Things and places get 'updated' all the time. Some restaurant franchises are required to redecorate and update every 10 years – whether it's needed or not. Many stores are always changing things and remodeling. Wall Drug is a little different.
Wall Drug was a tourist stop for us when I was young – if we happened to be going that way on our summer vacations, before the days of whiz-bang cell phones that argue and demand all your attention like a petulant toddler. It was before the days of suck-you-in-and-suck-your-brains-out video games and realistic computer-generated 3D effects. It was the days before Mount Rushmore added gimmicky stunts such as waylaying you on the way in for an expensive photograph, or charged so much for parking while yet calling the monument 'free'.
By the way, if you don't want to pay the ridiculous fees to see Rushmore, just outside of Keystone heading on the way up to Rushmore, you can detour instead off to the left, up the Norbeck Scenic Byway (Highway 16A). Watch for the signs. There are a few places you can pull off to see Mount Rushmore. The drive is spectacular, with tunnels and pigtail bridges. (Don't try it with a large RV or trailer, however.)
Wall Drug's Cowboy Orchestra was nifty to us all those years ago, the figures moved and sang songs! The dog would scratch a flea, a hen would lay eggs. You could (and still can) browse the kitschy souvenirs and grab a doughnut and some 5-cent coffee. At the time I might get a plastic horse or a stuffed teddy bear, wearing his own little "Wall Drug" sweatshirt. Their billboards all along the roadways will tell you all about the coffee and offerings and they count down the miles left to go. I loved to see those billboards as a kid because it meant we were on vacation, the most wonderful time of the year! We were doing something exciting and adventurous and not sitting around the house, bored.
The old, original creepy, but funny-because-it-was-creepy, Singing Sam the Gorilla Man had a home in the Wall Drug backyard. Poor original Sam suffered a number of odd afflictions. He was microencephalic, then apparently had his lower jaw dislocated in a bar-room brawl. He eventually contracted leprosy and alopecia and had to be replaced with his fuzzier, chubbier stunt double.
There is another original Singing Sam located at the 1880 Cowboy Town in Buffalo Ridge, SD so you can see what Wall Drug Sam was supposed to look like before his untimely…uhh…afflictions.
The Wall Drug backyard has added a few things since then. The roaring T-Rex that still scares kids, a fountain and some other shops and odds and ends in the back.
But the core of Wall Drug is virtually unchanged! They say you can't go home again, but if you were to Wall Drug in the 70s and 80s, you can because it's still just the way it was then.  The wooden floors still creak loudly and echo with the thumps of other feet clomping by. They have not "updated" the wood paneling in the cafe, or the booths or chairs and frankly, I hope they never do. You can still pick up a doughnut (which I highly recommend) and a cup of 5-cent coffee.
I've read mixed tourist reviews on Wall Drug. Different people like different things, but I suspect a great number of the negative reviews come from younger folks who've grown up with more techno-bells and whistles then they realize, sometimes mocking things that doesn't measure up to those standards. They simply prefer constant, passive/aggressive digital entertainment. They wouldn't understand the appeal of the Chuckwagon Quartet or even the Cowboy Orchestra, still intact and still warbling, "Greenback Dollar" every so often, just like they did 35 years ago. They are essentially now museum pieces that still work, well…parts of them anyhow! I don't find them 'creepy' because they're familiar. If you consider the era in which they were built (I believe the 1950's) they're not meant to compete with today's virtual immersion electronics, but to be a window to decades ago. These mechanical figures would predate Disney's earliest animatronics.
The timeline is always pressing forward, but going inside Wall Drug it pauses for awhile. You can still go and see things nearly the exact same way they were years ago and you can find yourself confused and wondering if it's 1978 or 2015, until someone's phone chirps and yanks you back to the present.
I sat down in the cafe and ordered a chicken sandwich and coffee to eat-in and some doughnuts-to-go to bring back for the kids. It is still the off-season so it wasn't crowded or hectic and I got great service overall. Looking around and glad that some things were still they way they used to be, I finished my sandwich and helped myself to some more coffee. Finishing up, I clutched my bag of delicious doughnuts with one hand and my other bag containing my soft-soled Peace moccasins in the other, and I headed for Hhrbie. On the way home across the rolling prairie, teeny newborn calves lay by their mothers in all their adorable-ness. The cars cruising by were modern, and Hhrbie himself is modern (though based on a retro design), but once in awhile it's nice to capture  a slice of what-used-to-be and find that it still exists somewhere!