I can't stand dried fruits and vegetables for the most part.
Sun dried tomatoes? YAGGGG. We got some of those thinking they'd work well on pizza? Worst topping ever! Squishy little bits of chewy, gummy nastiness that tasted like a tomato threw itself up….blehhhh. Little dried demons from pizza hell in both looks and taste; the creepy clowns of the dried food world.
So, for me to recommend something containing dates of all things…it has to be worth it and no, hell hasn't frozen over. If you run away screaming at the thought of raisins and stuff like that…wait! I know this recipe contains dates and seems far too simple, but hear this one out. Try a half-batch at first if you're not sure!
These sound perhaps initially terrible if you are not a dried fruit fan, but they're really good in finished form and very similar to a more healthy candy bar, using only 4 ingredients. No weird, unhealthy or unpronounceable ingredients or chemicals. They remind me of Snickers bars; I think you'd be pleasantly surprised.
This recipe is a base and can be modified in any reasonable way to suit your own preferences.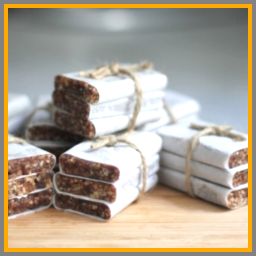 Ingredients:
4 cups whole, pitted dates
(moist ones work best)
2 cups raw or tasted whole shelled almonds
(a can of salted, roasted almonds works just fine)
1 cup semisweet chocolate chips or chopped dark chocolate
2 tablespoons natural (or regular if that's all you have) peanut butter, or other nut butter, divided
Directions:
Line a 9-inch x 13-inch straight sided pan with a piece of parchment paper so that the paper hangs over the long edges. Set aside.
Fit a food processor with a metal blade.
Add the almonds to the processor and pulse until they are uniformly finely chopped (think fresh bread crumb texture.) Add the chocolate chips and pulse again until the chocolate chips are also finely chopped.
Pour the chocolately nuts into a large mixing bowl and set aside.
Add half of the dates to the food processor and process until a paste forms and clumps together in the bowl. If your food processor has trouble with the dates, try lessening the amount and add them back in in batches until you get the first half processed.
Then open the food processor and add in 1 tablespoon of the nut butter and half of the chocolatey ground nuts. Replace the lid and process until evenly combined.
Scrape this batch into the prepared pan.
Repeat with the remaining dates, chocolatey nuts and nut butter.
When all of the ingredients have been thus processed, press the mixture as evenly over the bottom of the pan as possible. I just cover my hand with a baggie for a quick initial press.
Fold the excess parchment over the bars to cover them and use something flat and heavy to press down firmly on the mixture until it is smooth. I make these on a jelly-roll pan and just use a rolling pin.
Refrigerate for at least 1-2 hours before moving onto the slicing. To slice: Use the excess parchment paper like a sling to transfer the now-firm bars from the pan to a large cutting board. Cut into desired size and store in the refrigerator in a tightly covered container. An unrefrigerated bar will be good for 48 hours, covered, at room temperature.
Eat, enjoy and be pleasantly surprised!
Recipe originally found here.