He stood in the way, in heavy traffic, shaking his cane at me with a phone to his ear and refused to budge.
Ugh…fabulous.
The job where every day was Monday.
I sighed and mentally put my head in my hands, yearning for Calgon to take me away.  I figured it would probably be men in white coats at the rate this job was going.
I contemplated how on earth I'd ended up operating with Rippin' Crazy Transit. It wasn't supposed to be nutty. People looked normal enough. Probably 20 percent were pretty normal but that other 80 percent, wow. And here I had thought I was abnormal.
It was a job where a 'normal' day might consist of:
Me: "Thank you, have a nice day."
Nut: "*$&#  off."
Welllll. Okay then. Joy and goodwill oozed out of most of them. Not.
I got so eventually I said nothing to them because interacting meant you could feel all your positive energy being leeched out by the unhappy vacuum people.
It wasn't the first run-in I'd had with this particular nut.
He had gotten on my bus before. A younger-looking guy who carried a cane, with a baseball hat pulled low over his face. He was very quiet…until he apparently forgot to take his medication, or zipped his dingle in his fly, or whatever it was that would set him off.
I stopped and picked him up. He sat down and soon began ranting. He got increasingly enraged with the transit schedules and snafus that would knock the buses off their timelines. Ironically, he didn't notice his very behavior was sometimes the reason for the timeline issues he was complaining about.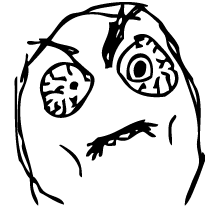 He grew irritated that my attention was on trying to play dodge ball with the heavy traffic instead of his tantrum. He shouted complaints about how no one in the office would immediately bow to his wishes, thumping his cane on the floor for emphasis. Hooo boy.
Oh great. I've got a ranting looney carrying on and shouting at me while I'm trying to concentrate on maneuvering in this traffic, watch for idiots, keep him off me, count passengers and make it safely back to the depot.

It was like running a dicey goon-gauntlet multiple times every day.
He shouted and thumped that he "would cram it down our throats until we got it right."
Direct threat.
I glanced up in my passenger mirror to make sure he was still seated and not coming up off of his seat or getting anywhere near me. I told him he would most certainly not be cramming anything anywhere as far as I was concerned. I called for dispatch on the radio to have them send out the supervisor to meet the bus upon our arrival to the depot.
When we did arrive to the depot, he immediately disappeared off of the bus, knowing he was in for it. I found out later this guy had a known track record of lousy behavior.
——————-
All of that flittered though my memories in a few fleeting seconds, interspersed with wistfully desiring Calgon. The bubbles wilted and popped and my mind beamed back to the present.
It was cane-kook. Again. He'd watched my bus come around the corner (lucky me!). He jumped off the curb, with his phone to his ear and there he planted himself, in the middle of the road smack in the path of the bus.
Holy joy, it was a two-fer. Not only was it this incredible bundle of positivity again, but he was doing more great things for my timeline.
Although contemplating how gratifying it would be to do otherwise, I had to reluctantly come to a stop so I wouldn't plow him down. He stood with his hand out, cane dangling from it, stopping the bus with his phone still to his ear. He put his cane-hand on the hood. I kept the doors firmly closed.
He held up his hand like he was a pseudo traffic cop. I attempted to swerve left to go around him. He stepped to the left so I couldn't. I swerved back. He stepped back. We do-si-doed around the lane doing the psycho square dance. We were holding up heavy traffic. I ditched thoughts of Calgon and wished for a stiff beverage instead.
At a standstill, I got dispatch on the radio as we were supposed to do. It wasn't my preferred course of action but I was trying to be accommodating to their wishes. I told them I was being blocked en route by a nut and couldn't get around this individual, who was intentionally stopping the bus and holding up traffic. They disparagingly suggested I "go around him". Really?!
Oh gee golly! Because with over a quarter-million safe miles of experience, I hadn't thought of that. <rolls eyes> (I'm actually not sure what they were thinking with this ridiculous non-help.)
It turns out they were who he was complaining on the phone to. (lol). He was angry about a different route's stops. Or he maybe had a wedgie, I'm not sure.
Finally after several minutes, he stepped away from the front of the bus, heading straight towards my driver's door. I don't know if he thought I might just genially roll down the window, or perhaps even open the door for him and stay around to chat.
I don't think so, sunshine.
I saw my opportunity and floored it, leaving him standing there with his hair blown forward in our wake and wisps of diesel exhaust gently curling around him in the middle of the road.
No ride for you!
Yikes!
Rippin' Crazy Transit management did not know what to do with these types of people, nor did they unfortunately recognize the danger such a history of erratic behavior posed in a mass transportation situation. With a repeating history, zero-tolerance should have been employed.

In the second incident, the police should have been immediately dispatched by them to where this guy was. Transit chose to try to argue on the phone with a known lunatic while also knowing he was directly inhibiting traffic and was a danger to others.
They were kind of weird themselves, though. Drivers would get reprimanded for strange things like asking for simple tools or equipment, such as a bungee cord, if something went wrong on the route and they needed to do a spot repair in the few seconds at the depot between routes. Or wearing a hat in subzero temperatures. It was kind of a twilight-zone environment overall.